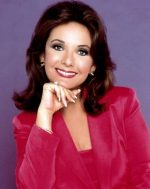 DAWN WELLS (Gilligan's Island), ALISON ARNGRIM (Little House on the Prairie), MICHAEL LEARNED (The Waltons) and ERIN MURPHY (Bewitched), all star in the new Web series, "Life Interrupted," which is up for PrimeTime Emmy consideration and recently received numerous awards including "Best New Web Series" and the "Best Ensemble" awards from the LA Film Festival as well as best acting nods from the International Independent Awards.
Here is our interview with Dawn on Tuesday, July 11, 2017…
See the Life Interrupted Page on YouTube
Link to the Elephant Sanctuary in Tennessee
A recent (and false) article in the National Enquirer declared that Dawn was broke and homeless.
Statements such as "The Gilligan's Island star is struggling to stay afloat" have confused anyone who knows Ms. Wells. It is a truly odd statement considering she has been active in numerous recent stage productions including Love Letters, Steel Magnolias and off Broadway in Love, Loss & What I Wore.
She has been seen regularly as a spokeswoman on the MeTV network, which is re-airing Gilligan's Island.
Last year, Dawn received the Elephant Sanctuary Trumpeting Award for her efforts to support The Elephant Sanctuary, founded in 1995 and is the nation's largest natural habitat refuge developed specifically for African and Asian elephants.
There is so much more to Dawn Wells than Mary Ann of Gilligan's Island (the longest running sitcom still showing worldwide in over 30 languages!) A native of Reno, Ms. Wells represented Nevada in the Miss America pageant in 1959.
She found success in Hollywood immediately afterward, appearing in such shows as 77 Sunset Strip, Maverick, Bonanza and Hawaiian Eye. She was later cast in the role of a lifetime as Mary Ann in Gilligan's Island, beating out 350 other actresses, including Raquel Welch. She's an actress, producer, author, spokesperson, journalist, motivational speaker, teacher, and humanitarian.
She has starred in over 150 TV shows, and 7 motion pictures, and has starred in 60+ theatrical productions across the country and on The Great White Way.
In honor of the 50th anniversary of the unexpected hit series "Gilligan's Island." Dawn Wells (who portrayed the lovable farm girl next door, Mary Ann Sommers), released "A Guide To Life: What Would Mary Ann Do?" through Taylor Trade Publishing and Rowman and Littlefield Publishing Group, Inc.
Dawn wrote about the meaning of the Mary Ann character and observes the cultural shifts that have occurred since she was on the island. From the get-go, the Mary Ann character was different. She wasn't a Hollywood creation. She was molded by Dawn, from Dawn. The Character that was originally listed as "And the rest" on the credits became the fan favorite, garnering more fan mail that even the title character. With over 100,000 fans on her Facebook page and fan clubs across the U.S., her following has remained faithful.
Dawn says that Mary Ann fits today just as she fit two generations ago, because she is timeless. In a world where the industry and society has been celebrating their "Bad girls," Mary Ann continues to be, for many, the breathe of fresh air as the "Good Girl."